Wodgina – Care and Maintenance
Practon Group performed a detailed electrical audit across Global Advanced Metal's Wodgina site which uncovered some previously unseen issues. We then undertook a remediation program to ensure all areas of the Wodgina site met the statutory requirements and as well as industry best standard.
We revitalised the maintenance department by reviewing all maintenance tasks in the Pronto system and applying a proactive maintenance methodology across the site.
Following this success, we completed further infrastructure projects including a new power line installation and essential services upgrade to the village.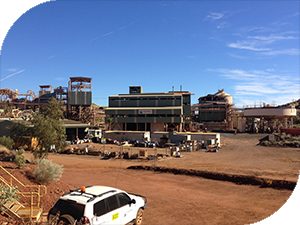 Wiluna – Exploration Drilling and Temporary Power Station
Blackham Resources engaged Practon Group to reinstate the underground high voltage infrastructure. This was required to enable the exploration drilling program of Wiluna Gold Mine to prove the quality of the resource. The project necessitated the testing and repair of the high voltage distribution network, and restoration and repair of the diesel fired high voltage power station.
The underground distribution network was reinstated and commissioned including the remote bore fields. Practon Group operated and maintained the infrastructure throughout the project to deliver the infrastructure requirements for successful completion of the exploration drilling program. This project spanned multiple months and was completed without incident in a safe and timely manner.
To feed the underground operation and the process plant refurbishment works until the new power station was built, we completed installation, testing and commissioning of the temporary power station project. The work included two separate installations of diesel fired generators and step-up high voltage transformers. This installation back fed the site infrastructure to ensure the delivery of power and water to critical areas of the operation. Practon Group designed, installed, commissioned, maintained and operated the system.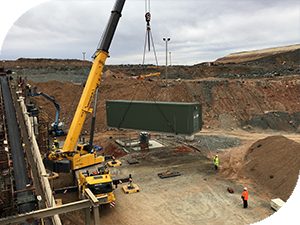 Wiluna – Gold Process Plant Refurbishment
Practon Group successfully tendered and won the electrical and instrumentation (E&I) contract for the Wiluna Gold Processing Plant. Under tight timelines we mobilised a team of over 40 personal to complete the variety of works required to bring the run down plant back to life. Significant works included:
The disconnection & removal of an MCC to make way for the installation and reconnection of a new MCC for the crushing and screening circuit.
Trenching, conduit and cable installation, termination and testing of multiple HV cable runs.
Installation at heights of new cable tray and cabling for all equipment and sensors in the leaching area.
Implementation of Macroview control system to coordinate the entire plant process including new user interfaces, PLCs and servers. As well as, running and termination of new high bandwidth fibre optic communication network.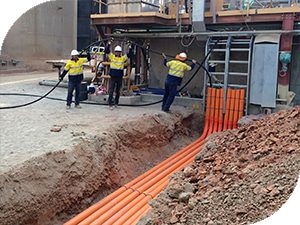 Wiluna – Ancillary Infrastructure Works
Practon Group completed installation, testing and commissioning of multiple ancillary projects at Wiluna Gold Mine for Blackham Resources. These included:
The Village high voltage infrastructure, comprising of refurbishment of high voltage transformers and replacement of main distribution centres.
Complete upgrade of the remote bore fields. This work was critical for operation of the mine and process plant, and was completed without any major disruptions. The work included switchboard design and manufacture, site installation, testing and commissioning. Additionally, we also completed the supply and installation of the bore headworks, valving and pumps for the project.
Upgrades where completed to the Happy Jack primary underground ventilation electrical infrastructure, including replacement of the 1MW high voltage transformer and cabling, refurbishment of the primary starter panel and replacement of all cabling and fixings.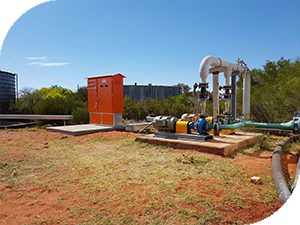 Workshop – Electrical Panels & Underground Substations
Our Pinjarra based workshop is equipped for all types of electrical works from new panel builds through to motor refurbishments. With over 300m2 of floor space as well as a 6-tonne overhead crane we are ready to tackle jobs big and small.
A great example of this in-house capability is the seven underground substations we refurbished for Blackham Resources to service their Bulletin underground mine. This project consisted of disconnection and removal of the substations from their underground locations, while minimising the impact on operations. This was achieved by a strategic and staged approach to the substation refurbishment.
Each substation was completely stripped down, base frames sand blasted and hot dipped galvanised. Panels were similarly stripped, sand blasted, repaired where required and powder coated. Finally, the switchgear was updated, rewired and then tested before being sent back to site to be reconnected and put into service.
Innovation – Virtual Reality HV Training
Practon Group is always looking for opportunities to solve old problems with modern technology. One of our current new developments is a virtual reality training environment to safely train electricians on how to and how not to use HV switches.
Providing training in a VR environment has several advantages, such as a large variety of training scenarios, ability to 'learn by failing', no operational downtime and reduced training time & cost.